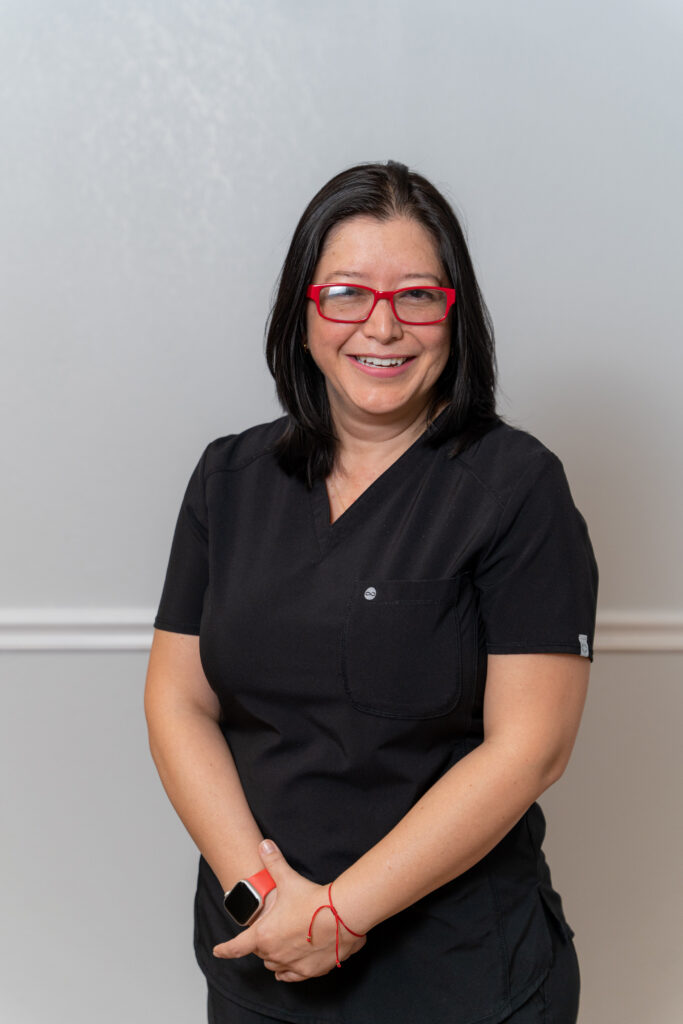 Is a dedicated office manager who is committed to ensuring that all patients receive the highest quality of service and attention from the front office. With over eight years of experience in dentistry, she takes pride in getting to know each patient personally and making them feel welcome and comfortable.
Originally from Venezuela, Tathiana has been living in South Florida for over 21 years. Her passion for dentistry stems from her desire to see people happy with their healthy smile. She believes that a healthy smile is a reflection of a healthy lifestyle and is committed to helping patients achieve their dental goals.
Tathiana's warm and friendly demeanor creates a welcoming environment for all patients. She is dedicated to providing exceptional customer service and ensuring that all patients' needs are met. Her attention to detail and organizational skills help to keep the front office running smoothly.
In her free time, Tathiana enjoys spending time with her family and friends. She is an avid reader and enjoys exploring new cultures through travel and food.
Tamara
Dental Receptionist
Is a Dental Receptionist at Hallandale Dental Care. In 2018 she became a Certified Expanded Functions Dental Assistant with four years of experince in the dental field. With the inspiration from her son she uses her positive attitude and tireless energy to encourage others to stay motivated and succeed.
Is a seasoned dental assistant with over 27 years of experience in the dental field. Her passion for caring and helping patients is at the core of her professional life. She takes pleasure in treating patients from diverse backgrounds and finds it gratifying to meet people from different paths of life.
Originally from Venezuela, Yakelin moved to South Florida five years ago, where she has been working for Dr. Stephen Rothenberg and Dr. Maria Chacin for the last four years. Her extensive experience in the field has honed her skills in dental procedures and patient care, allowing her to provide excellent service to her patients.
During her free time, Yakelin enjoys being outdoors and engaging in physical activities such as running, playing tennis, and swimming. She draws inspiration from her three beautiful children and cherishes the moments spent with her family.
Lorena
Registered Dental Hygienist
Is a highly experienced Registered Dental Hygienist, originally from Colombia and raised in Caracas, Venezuela. With over 20 years of clinical experience in dentistry, she moved to Florida in 2016 and became a Registered Dental Hygienist two years later.
As a dental professional, Lorena is focused, dedicated, and compassionate. She takes pride in providing quality care to her patients and is committed to educating them on how to maintain optimal oral health beyond their regular cleaning appointments. She works tirelessly to ensure that her patients are comfortable and have a positive dental experience every time they visit her.
In her free time, Lorena enjoys spending time with her family and supporting her son's soccer games and tournaments. She is a devoted soccer mom, and her passion for her son's sport is evident in her unwavering support and enthusiasm.
Orlando
Registered Dental Hygienist
He was born in Bogota, Colombia and obtained his degree in dentistry from a Colombian university. In 2001, he and his family relocated to Florida, where he began working as a dental assistant at Dr. Rothenberg's office. After two years, Orlando obtained his dental hygienist license and has since been working as a hygienist. For him, patient care and overall health are of the utmost importance in his daily work. Currently, he is working with Dr. Maria Chacin and enjoys spending his free time with his family and engaging in outdoor sports such as golf and tennis, as well as visiting the beach. Orlando is the proud father of three wonderful children.